Building a home is a profound journey, an opportunity to create a sanctuary that reflects your unique style and aspirations. When it comes to crafting your dream abode, two popular options stand out: semi-custom and full custom home-building. While both offer an escape from the cookie-cutter approach, it's essential to understand the distinct advantages of semi-custom home-building. In this article, we delve into the world of semi-custom homes, exploring their unparalleled benefits and why they may be the perfect choice for turning your vision into reality.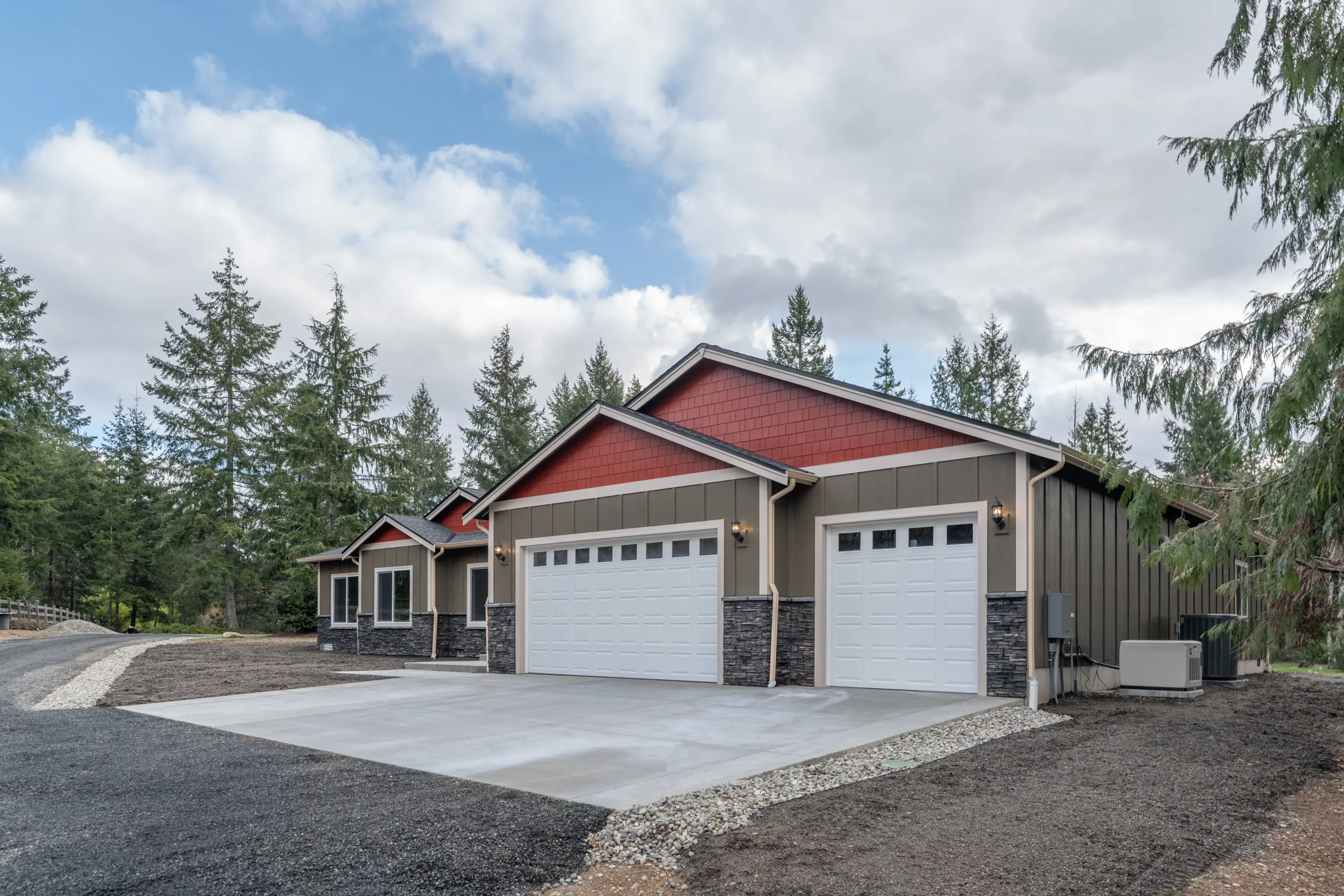 Caption: Coval Douglas with added personalizations. 3-foot rock wall, Belly Bands with shingles in the gables, and board and batten siding. Read more about this project.
1. Personalization that Transcends
Semi-custom home-building empowers you to express your individuality while enjoying a structured process. With a semi-custom home, you have the freedom to customize select aspects of the design, including finishes, fixtures, and layout modifications. This level of personalization ensures your home aligns perfectly with your preferences, allowing you to create spaces that reflect your lifestyle and cater to your unique needs. The result is a harmonious blend of personal style and expert craftsmanship that sets your home apart from the rest.
2. Budget-Friendly Brilliance
One of the significant advantages of semi-custom home-building is its cost-effectiveness. Unlike full custom homes, which require starting from scratch and often come with a higher price tag, semi-custom homes provide a solid foundation. Builders offer a range of pre-designed floor plans and layouts that can be tailored to suit your needs, saving you time and money. With semi-custom homes, you can still achieve exceptional quality and craftsmanship without compromising your financial well-being.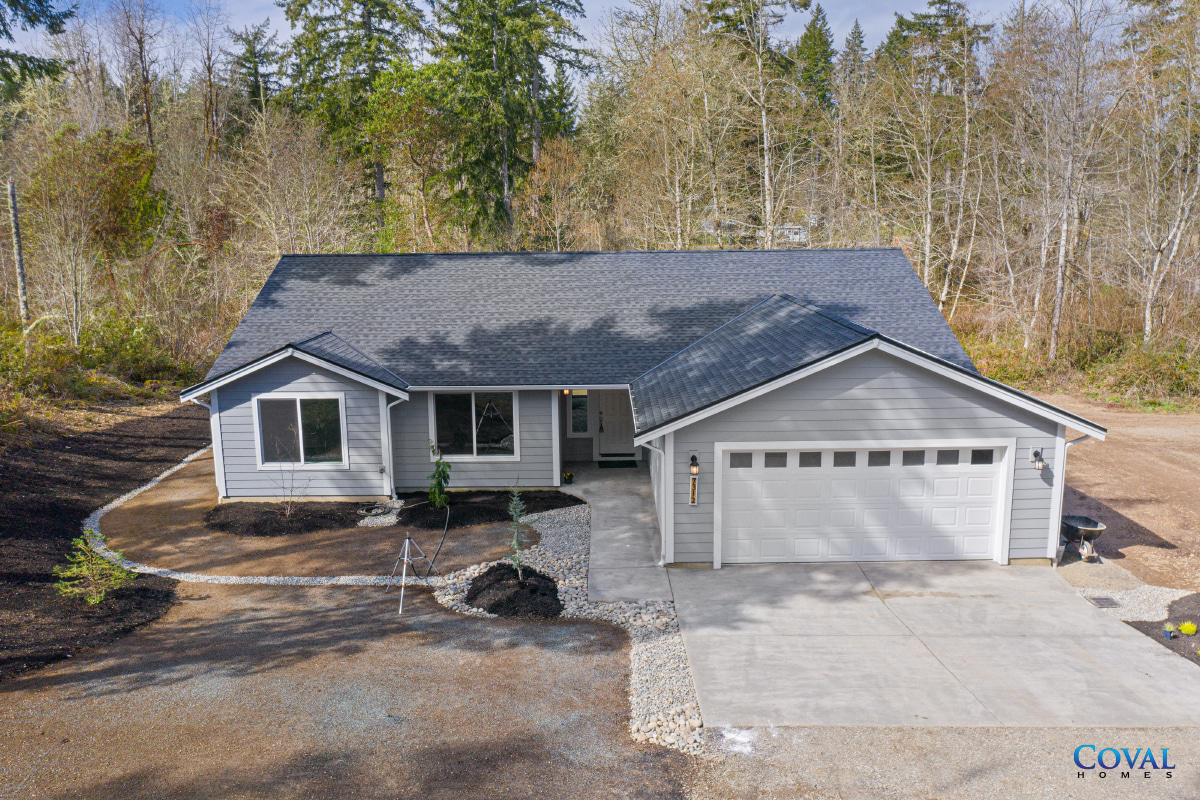 Caption: Standard Coval Fircrest, many of our standards are considered upgrades by other builders. Read more about this project from start to finish.
3. Efficient Timelines without Sacrificing Quality
Time is of the essence, and the desire to move into your dream home quickly often outweighs the need for absolute customization. Semi-custom home-building offers the advantage of streamlined construction timelines. With pre-designed plans and systems in place, builders can efficiently execute the construction process while maintaining a keen eye on quality. This efficient approach ensures that your home is completed within a reasonable timeframe without compromising the craftsmanship and attention to detail.
4. Expert Guidance Every Step of the Way
Embarking on a home-building journey can be overwhelming, especially when it comes to making crucial decisions. In the case of semi-custom homes, you benefit from the guidance and expertise of experienced professionals. Builders who specialize in semi-custom homes bring a wealth of knowledge to the table, helping you navigate through the process seamlessly. From selecting the right floor plan to choosing the perfect finishes, their guidance ensures that your vision is realized while keeping potential pitfalls at bay.
5. Community and Amenities
Semi-custom home-building often takes place within established communities that offer a host of amenities and conveniences. These communities provide a sense of belonging and community spirit, allowing you to connect with like-minded individuals and families. The presence of amenities such as parks, schools, shopping centers, and recreational facilities enhances the overall quality of life for you and your loved ones. Semi-custom home-building not only grants you the freedom to personalize your dwelling but also offers the added benefits of a vibrant community.
In the pursuit of creating your dream home, the choice between semi-custom and full-custom home-building is a critical decision. While full customization may sound enticing, the benefits of semi-custom home-building cannot be overlooked. The ability to personalize, cost-effectiveness, efficient timelines, expert guidance, and the advantages of living within established communities make semi-custom homes a compelling choice. By harnessing the power of semi-custom home-building, you can unleash your creativity, build a home that meets your specific needs, and embark on a fulfilling journey that results in a beautiful, personalized sanctuary.
Caption: Various plans and options homeowners choose to personalize their homes.