Your Story Matters
Your home building story doesn't have to be stressful!  We strive to be there for you at every step and celebrate each milestone along the way – from the initial stages of the journey until you put your keys into the front door. Life doesn't slow down when you decide to build a home – that's why we take the time to set your expectations.  So, you will share your story and experiences with others.
We're In This Together
As we begin our journey together, our team will assist you in addressing all your options that will make your dream home truly unique!  We will answer all of your questions and offer suggestions from experience.  With Coval, you don't have to worry about being pressured to make upgrades you don't want to make – we aim to put the fun and excitement back into building a new home!
It's All In The Details
Work with an experienced builder with a proven track record!  We leverage our experience when it comes to big and small decisions. Rest assured, we maximize your budget and ensure you get the best value for your money.  From big design spaces to the color of the door hinges, we leave no detail out of your sight and control.  Your dream home is in good hands!
Find the Perfect Home Plan for You!
Whether you're looking for one or two stories, options for narrow lot sizes, multi-generational designs, a couple of bedrooms or a lot, we've crafted intuitive floor plans to fit almost any family! Find the design that's right for you and we'll help you customize and tailor it to be the perfect fit!
Featured Plan Video:  Coval Baker
The Numbers Matter Because You Do
Each year, we focus on building around 50 high-quality, custom homes at an affordable price (a much lower volume than some competitors).  The reason we aim for that number is simple: You.  Our goal is to be the best part of your home building story, so it is vitally important to us that each project we're a part of is paid every moment of attention that it requires to exhibit the craftsmanship, design, and personal care we've promised our customers.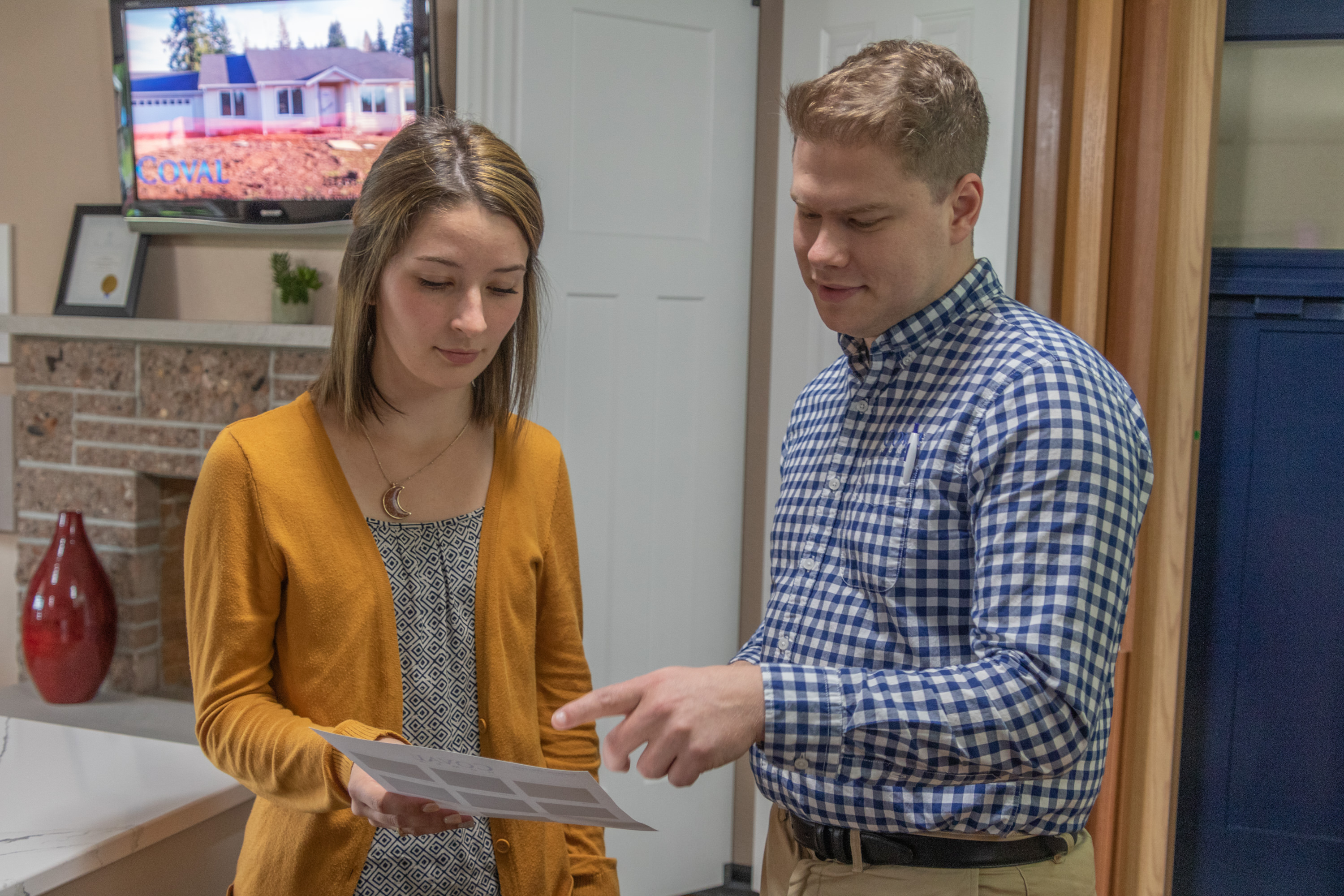 Finding a builder you can trust is scary, so we take the guesswork out of building your home by simplifying the entire process with our unique online platform.  You'll be proud of what we build together!
Start Your Dream Home Journey Today
What Our Customers Are Saying About Us
Gary walked us through everything with a marvelous attention to detail. He has a helpers spirit and a pleasure to work with.

Called to ask questions and the customer service was amazing!

We just had our house built by Coval and overall we are extremely happy. All of the subs were awesome to work with as well as our project supervisor Brandon. He kept us on track and got us in the house a week before my wife was due. Overall it was a great experience and the end product is awesome. There are a few minor things that need to be completed and so far I have been kept in the loop about the status. I will update my post if there are any changes in my experience. I highly recommend Coval Homes and have referred them numerous times

We chose to work with Coval based on their functional house designs and fast build time. We started precovid and endured the county construction shutdown, covid restrictions, and supply shortages. However, our project manager Brandon Stowe, was communicating with us the entire time. He answered all our questions and concerns and really seemed to care about delivering a structure that we can call home.

My brand new home is beautiful and I couldn't be happier with the process of it. I found the house I was looking for by Coval after a year of looking. My project manager Brandon Stowe was amazing. His communication throughout the process was outstanding. There was a small issue on the pierce county permit due to loose gravel. I called Brandon frustrated with the county. Not only did he calm me down he explained it was a word choice issue on the site plan. I updated it and it was good to go. His all around knowledge of the building process saved me from so many headaches I can't thank him and the Coval Homes family enough.

After much searching, shopping, and comparing, we have finally found our soulmate builder! Joey is amazing!

Kelly "J & K" B
18:03 14 Aug 21
My wife and I met with Gary in the Port Orchard office last week. In about 2 and one half hours Gary had us through the entire process. Gary was very attentive to our questions and our changes that we wanted. He did a great job explaining the process of having Coval build a home for us. Looking forward to seeing the home as it's built!

When our build started, we were assigned a new project manager for our home. At first we were worried, however, any concerns were quickly removed as Brandon demonstrated his knowledge and experience. When ever issues arose, he clearly communicated to us and was transparent. He always provided us with solutions or alternatives to keep the build on schedule. Brandon provided an excellent customer experience throughout this process and we are extremely satisfied that we were assigned him as our project manager.

We went through Coval homes and worked with Brandon (project manager) for the majority of the project. He was nothing but great, very responsive, on time, always answered any questions we had. The structure of the house seemed very sounds while being built and turned out amazing we Would definitely use them again!


Raymond P.
01:24 17 May 21
So far a great experience. Gary is knowledgeable and nice to work with.

Every person that I interacted with at your company was responsive and customer focused!Integrity, enthusiasm, and honesty drew us to Coval Homes.Hard work, excellent communications, and outstanding craftsmanship are how Coval Homes paid us back for trusting them to build our new house.We are extremely happy, and positive that we made an outstanding choice using Coval Homes for our new house build.Coval's Floor Plan flows conveniently and functionally; it's outstanding to have a brand- new beautiful home, everyone loves the kitchen!Coval, thank you for providing us with such an excellent value!Phil and Laura Jenkins

PHILLIP J.
21:13 30 Apr 21

Joey was amazing to work with. He was quick to respond to our emails and questions and has an easy personality to work with. We were able to meet with him within days of originally contacting him. Excited for the next steps.

We are in the early stages of having our dream home built with Coval and so far our experience has been AMAZING. Joey has helped walk us through all of the early planning and the Coval team has been extremely timely with all of their responses. The process of permitting with the county is a drag, but this has no relation to Coval and their incredible services. They have been the one pleasant and fun piece of our home building process so far and we're excited to get permitting and start building!

I have just started my early phase planning for a home build and have talked to many builders. I have been talking to Guy at Coval and so far he has been the most helpful and responsive. I will update again if we are able to move forward with a build in their area. Thank you for the info Guy!

We have just begun the process of building our home with Coval Homes. Joey was very professional, upfront with costs for the project. Looking forward to the construction

John Von A.
03:55 16 Mar 21
We weren't exactly looking for a new home the same as everyone else, as we know all the big players in new construction. We started our search based on floor plan design, and we soon learned of the reputation of Coval. It was an easy decision once we met with Joey, our Coval contact, who has been fantastic, punctual when answering the multitude of seemingly inane questions that arise when undertaking such a momentous task as building a new home. From the little tweaks, to major customizations, Joey has been nothing short of marvelous. Getting to final plans has been remarkably easy with the expert guidance, knowledge, understanding and flexibility of Coval Homes.We have been strikingly impressed and ultimately relieved with the process, and we ultimately believe this is, because Coval Homes genuinely cares about people first, the quality second, and they acknowledge that quality people live in quality homes for many, many decades.

Kind, informative, and transparent agent. I was very happy with the conversation we had with Joey. If we buy land in the Coval area, we will definitely have Coval build our home.


We went in and were treated so well as a family. Joey took the time to hear what we wanted and needed and we were so pleased with the quality of service and the ability to meet our needs that we signed and bought our home that day! We look forward to the next 2 years of working a building our forever home with such an amazing company and team of reputable people!

Gary at Coval was truly outstanding! He was very friendly, professional, & above all, TIMELY in all our dealings with him. After dealing with another builder for 2 plus months & not getting anywhere, it was such a relief & so refreshing to deal with Gary & Coval. Within a week after first reaching out to Gary, we had a house plan picked out, modified with what we wanted to have, recommendations for companies to help with the permitting process & the required dirt work, and signed the home purchase order. My wife & I recommend Gary & Coval very highly!

I worked with Jenille Kromm during the construction of our new home. She was awesome to work with and extremely helpful! She went above and beyond to make sure everything was perfect for our new home!! She was always willing to help with any issues or questions we had and she was extremely resourceful and knowledgeable. I highly recommend building with Coval and working with Jenille Kromm!

Joey has been a great consultant! Really fast replies and has gone above and beyond to help answer all my questions. The homes standards are so much better than we expected also! Bigger windows and most of the standards are already "upgraded" so there wasn't much we wanted or needed to upgrade! Very pleased with Joey and the team at Coval homes!

Rebecca V.
18:57 25 Jan 21
I have been working with Joey since July of 2020. We are planning to build our forever home. Joey has been extremely helpful and informative. The marketing team is amazing. The pictures on their website are 3 dimensional so you can get an exact idea of what your home will look like. Their showroom is equally amazing. They have samples of all the amenities so you can pick out exactly what you want in your home. They have so many choices to choose from. Joey is quick to answer any questions you have. I can't wait to start the process!!!

nichole E.
17:52 15 Jan 21

Hollyhock M.
03:05 20 Dec 20
Even though we did not end up using Coval homes for our project, I have nothing but good things to say about how i was listened to, respected and treated by Coval Homes associate Joey Harman. Joey went out of his way to guide and direct our search, answering our questions and providing service and patience that went beyond the typical including answering a pressing question while off work hours. Coval products, pricing, and customer service are quality all the way. The only reason we did not move forward is because our situation required a specific layout, all having to be contained within a very limited lot dimension that most would find unsuitable. With that said please dont hesitate to contact Coval Homes, and Joey Harman in particular for your future building project. You will not be disappointed and highly unlikely be in the minority to go someplace else like we did. Better price...Better value...Better service !! at Coval Homes.

Daniel and Jonathan S.
21:51 08 Dec 20
Joey at coval hones is very prompt in keeping in communication, very reliable and honest. Definitely recommend him for future home builds.

Khelsie A.
00:54 05 Dec 20
Our experience with Coval Homes has been very satisfying. From our first call to to Guy Silbaugh who always treated us with the utmost respect and was truly caring and very helpful with our home plan. He always had answers to our many questions. And was always there when we called. When we decided on a home plan he was very knowledgeable with his experience in the business. He made it easy for us to understand the process of having a home built. After researching several other builders. We believe we have chosen the absolute best in Guy Silbaugh and Coval Homes

Hector P J.
01:41 21 Nov 20
We met with Joey ones over the phone and once in person to plan our new home. We couldn't be more thrilled with the care and professionalism he exudes. I can only imagine the quality of other staff they have given how great it was. We just signed to build our home with Coval a couple days ago but are already impressed with the process so far! The app and online communication portal is so convenient and helpful!

Michelle M.
14:58 10 Nov 20
We are working with them to finalize selection of a home model that they will build for us. Gary O'Neill has been fantastic through this whole process. We actually started a year ago, then the pandemic hit, now we are picking up again, found land, and working with him to modify plans to fit on the property. He is very responsive to all our requests for changes to interior design, upgrades and is quick to answer questions. So far a great experience.


We contacted Coval homes with the desire to receive information and hopefully build within the next. year. Joey was our first contact and was wonderful. We met, picked out a house plan and went over options. He kept in contact with us, checking in regularly while we were selling our home. He was always so understanding, kind, helpful, and knowledgeable. We have decided not to move forward with building in King County for personal reasons; however, if we were to decide to in the future, we will definitely contact Joey and use Coval Homes. With things being so impersonal in the world right now it was a blessing to have a company be so personable and easy to work with. Thanks Joey! We appreciate all of your help.

Joey is amazing to work with. He is very professional and always makes your concerns valid and is a great at listening. Joey is also a very kind caring professional as building a home or getting ready to build a home can be rather stressful at times more so than others. I have appreciated working with him and would recommend Coval homes for anyone thinking of building a new home. The prices are fair you can customize many things in home. They are a small family company and it really shines through thier employees. Thank you Joey for your kindness and patients.

Working with Joey has been a great experience through the initial home selection/design process. He listens to our ideas, offers ideas and responds with new plans, questions and concerns promptly. Joey is very easy to work with, very professional and delivers on what he says he's going to do. It gives us a comfortable feeling that we'll have a great relationship through the whole process which is hard to find in many companies today. We look forward to sharing our experiences along the way.

The stuff are very nice and very informative.

Working with Joey has been a great experience. He was professional, friendly, prompt with responses and made us feel at total ease. He had great ideas, was so helpful and easy going. Deciding to build with Coval was a no brainer, and we talked to many, many builders before them. Joey made the whole process stupid easy! We look forward to working with them and will recommend them to everyone we know!

My family built our home thru Coval, and we were very, very happy with the results! Gary helped walk us thru the entire process as this was our first time building a home. We had lots of freedom when it came to upgrades, and it was a very good experience. My kids loved being a part of the design process, and Gary and his team were very welcoming when we needed to bring the whole family in. Communication was great, and all the contractors were amazing. Feel free to contact me if you have any other questions!

Stephanie L.
23:40 13 Feb 20
Working with them is a breeze! You'll be glad you did.

We got the pleasure of meeting and working with Joey. He is extremely knowledgeable, had exceptional customer service skills and a great sense of humor as my husband and I joked with him. Joey didn't push any upgrade as most sells reps do, in fact Joey waited to the end before telling us about one of the promotions so we wouldn't fell pressured. Joey is absolutely amazing and he made us feel very welcomed and treated us like family.

My 'experience' is through Shannon. I own my land and home free and clear and am hoping my friend Shannon wins the contest bc she deserves it. She has a young family. Shannon has always been a hard worker. I have known her since she was 16 years old.

Life is always better when the property you live on and the roof over your head is YOURS! Hopefully this will happen for Shannon's family.

It has been a long journey (finding buildable land and navigating the permit process), but we are finally one week away from closing and breaking ground. From the moment we stepped into Sam's office, we felt welcomed...like we mattered. After seeing the 2734 model, we fell in love and knew that was going to be our forever home. ❤️ Ed and Sam have gone above and beyond, helping us through the selection and pre-construction process...and being so patient with us when things became a little overwhelming. I'm so glad you're here with us, every step of the way...and being a part of our Happily Ever After. -Shannon

Shannon M.
18:25 25 Jul 19

When we were shopping for a builder to build a home on land we already owned, Coval was by far the most responsive as far as answering our questions and getting us the information we asked for - no matter how many questions we had. When we selected them for our build, their customer service continued to shine. We had a delay in getting the building permit which had nothing to do with Coval. They helped where they could and promised me that they were ready to start on the house just as soon as we had the permit in hand. Once we got the permit, they got started right away. The subs have shown up on the day they were promised and everything has gone as scheduled. The representatives from Coval have continued to be there to answer our questions and concerns. It has been a true partnership. We are currently 30-45 days from home completion. I would absolutely recommend Coval to anyone looking for an honest, straightforward and reliable builder.

We absolutely love our new Coval Home, it's the 2734 model. The best thing about our build was our Superintendent Brendan. He was on top of the build through out the whole process. We had a complex build due to the architectectural changes that we wanted and the flooring, cabinets, doors and fireplace upgrades. There were a lot of different things going on during our build that normally wouldn't be going on. Brendan never missed a beat, if I had any questions I would call him and he would explain it to me. Everyone at Coval Homes made my wife and I feel more like family members than customers from start to finish. I would recommending Coval Homes to all of my friends, family and anyone else that would like a new custom home built. They gave us a completion date at the beginning of the build and we received our keys three days before that date. Thanks Brendan and all of the great folks at Coval Homes.


Michael M.
16:33 04 Mar 18
Well experienced team of loving people that walked us through the whole process. Would recommend to anyone!

MacKenzie L.
07:55 01 Jan 18
Very experienced team of caring people. Felt like we were a priority throughout the whole process!

Makaylyn C.
07:21 01 Jan 18
They have fantastic customer service. They make you feel very welcome, almost like you're a member of the family. You feel like you're really being cared for rather than just being seen as dollar signs. I know where I'll be directing any friends who need the same services.

Jordan was helpful in answering any questions I had and getting the information I needed.

Jennifer D.
05:21 01 Jan 18


Coval Homes did a great job in building our home, and allowing picky me to have a few custom features that were not standard. I really appreciate their honesty and online Builder Assist Program that keeps you apprised to what is happening on your project. Also it lays out the additional costs for any upgrades so there is no surprises at the end. We built the 2734 sq foot rambler and absolutely love it. We have been living it it now for 2 years and all is good. We are happy with our home and the appraised value of our home over what we paid is phenomenal. Thank you Coval Homes! 5 Stars too you!

They have great home designs, follow up and are there for the whole process. Thank you Jill !


The process of building a home is stressful and unpredictable, especially if it is a first home build. Coval did a rather good job of helping the process but our project manager, Brandon, made all the difference. He was very responsive and professional, even when our questions were silly and showed our ignorance of the process. Building during a pandemic added to the complexity and frustration of building a home, yet Brandon did his utmost to navigate through the craziness and when he wasn't able to find an immediate solution... as in supply chain issues leading to back orders... he explained the situation and gave us constant updates. Building a home is an exercise in frustration and patience, but Gary on the front end of the process and Brandon on the back end made all the difference. We would recommend Coval.


We have loved working with Coval on our home build, especially with our project manager, Jenille. She is great at multitasking, is always responsive and prompt, and has kept us in the loop every step of the way. The quality of the standard features is amazing and sets Coval apart from all other building companies. I would recommend Coval Homes to anyone looking to build!



We've been in the market for a house for a while now and the whole process is a bit daunting. Working with Jordan Dunmire has been great. He's very helpful and kind. He put our needs first and is able to answer all our questions and help with the concerns we have.

My wife and I purchased the 2734 floor plan, and we're happy we went through Coval Homes. We live in an area where all the homes are newer and built by 4 or 5 different builders. We get compliments ALL the time from our neighbors as Coval's signature oversize windows stand out among all the rest.When I contacted Coval initially, I knew absolutely NOTHING about building a home. In fact, I'm not even allowed to do repairs at home :)! My wife banned me long ago..Gary was patient and connected me with a knowledge Realtor who guided me through the process. I have since recommended Coval to everyone I know who are thinking about buying or building a house. It's a lot less expensive to build than to buy in this market, so to me it is was a no brainer.Like any major project, there were a couple of little bumps in the road, but my Project Manager (ED) handled business and made sure things were taken care of to my satisfaction. Ed was on top of his game, and his attention to detail and customer service was world class.

Everyone all at Coval Homes were so sincere, it was evident that this was going to be a personal experience. We did not want a box house...Coval Homes was so flexible and willing to work with us. We would absolutely recommend Coval Homes to our neighbors and friends. Thanks Coval

[rt-testimonial id="11086" title="Testimonial-Page-Phone"]