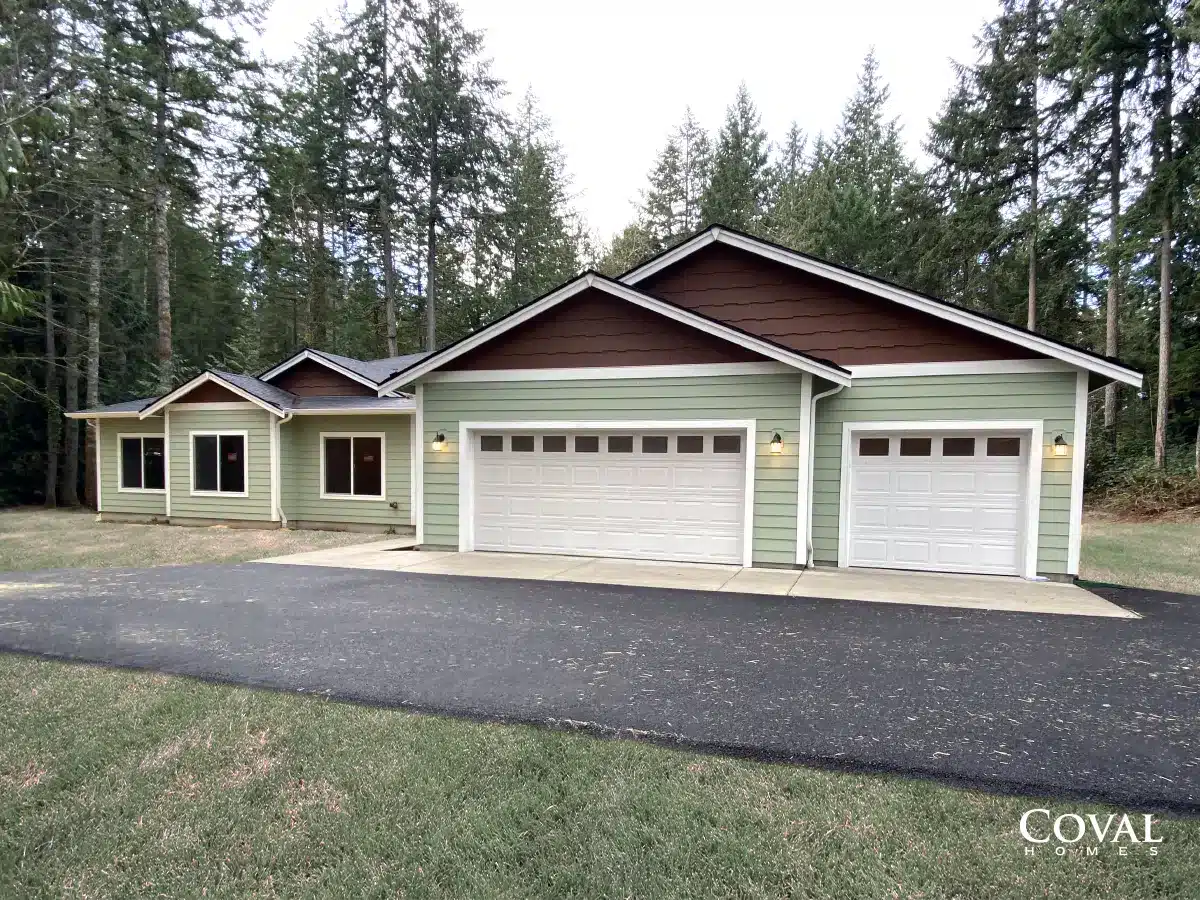 Recently Completed Home Build in Olalla, WA.
How it started to recently completed in Olalla, Washington. This Douglas & Hemlock ADU combo features upgraded choices like skylights in both structures, 9-foot ceilings, and extended covered rear living space!
Home Builders Prefer the Douglas & Hemlock ADU
There's no doubt that our homebuilder customers prefer the Coval Douglas plan.  Offering two variations, the standard single-family and the multi-generation; the Coval Douglas is popular among growing families and empty-nesters. The Hemlock ADU, is our most popular Accessory Dwelling Unit. Perfect for extended family living, rental income, or additional work space.
How it Started – The Perfect Lot in Olalla, WA
To start off this property in Olalla, was in good shape. No protected areas, and the grade was acceptable for the septic tank. Once their plans were submitted and accepted by Kitsap County. Clear out and horizontal development could begin.
Do You Need Help Finding Land?
Constructing The Coval Douglas & Hemlock ADU in Olalla
Once the horizontal development aspects of the build were completed and approved by Kitsap County, the vertical development began. This particular Coval Douglas build had some architectural changes at the homeowner's request. The most visible change was extending the outdoor covered area an additional 10′. Also, in both structures, the homeowners opted for skylights introducing natural lighting into the living spaces in the fairly densely forested surroundings. A great choice!
Building Two Structures in Olalla at Once
We don't cut corners we treat each structure as its own project. This is done to ensure the quality and craftsmanship that goes into every Coval Home.
Completed Douglas Home & Hemlock ADU Builds in Olalla Washington
After the foundation and framing were completed this home build started coming together visibly. The homeowners started to notice many of their design decisions starting to manifest and their dream home becoming a reality.
Architectural Changes
Extended rear outdoor covered space, roof extended 10, vaulted space, Douglas Only

9′ High Ceilings both homes
Skylight in both homes
Shake siding in the gables for both homes
Upgrades and Customizations In This Home Build
Upgrade: Granite countertops
Upgrade: Sinks under mounted
Upgrade: Butler's Pantry tile backsplash
You'll Be Proud of What We Build Together!